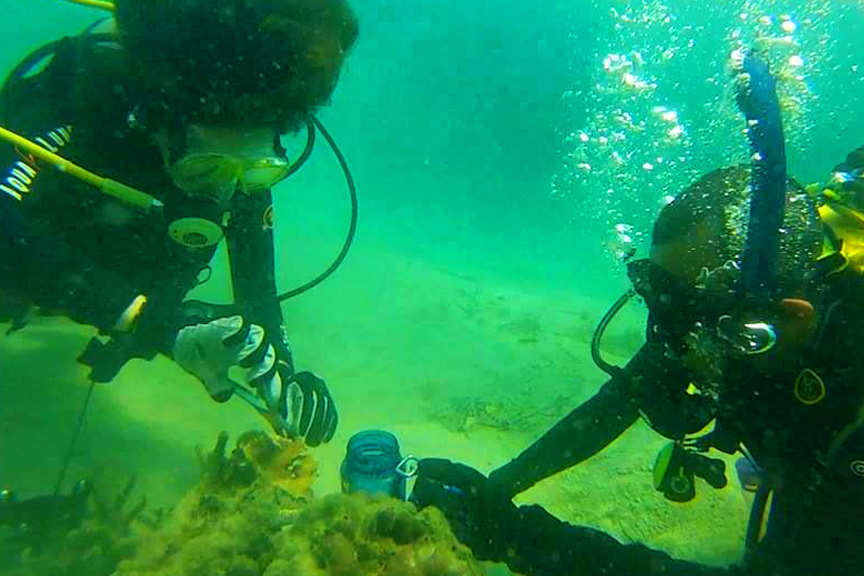 It has been more than 3 decades but fisherfolk in Barangay Gulod, Calatagan, Batangas, say they are still paying for the mistakes committed by their forebears.
Rampant dynamite fishing in their oceans in the 1970's and 1980's destroyed much of the coral reef in the area and, according to them, has left them muttering prayers for a decent catch every time they set out to sea.
While the sea  has its reasons for not giving in easily, in 2015, knowledge of coral propagation reached the shores of Barangay Gulod through one of its residents, Jesse delos Reyes—one of only seven coral propagation instructors in the Philippines, a bantay-dagat volunteer and a scuba diver.
Delos Reyes emphasized: "mahalaga ang corals dahil siya ay tahanan ng mga isda."
'Kaya ng ordinaryong tao'
Coral propagation is a way to revive dying corals by using pieces of dead corals, healthy coral fragments, glue and a catalysing substance.
"Kaya siyang gawin ng ordinaryong tao, maging mangingisda man 'yan, duktor man 'yan, nars man 'yan. Kahit non-divers kayang gawin ang coral propagation," Delos Reyes said.
Delos Reyes has been sharing knowledge to the barangay coastal community as a way of mitigating human impact on coral destruction and instilling responsibility to the fisherfolks themselves.
uick, favorable results
It takes many years for corals to regenerate a few centimeters but according to Delos Reyes, with the coral propagation technique, favorable results can be seen in as early as 3 years.
"Very effective (ang coral propagation). Mas mabilis lumaki (ang corals) at tumataas din ang awareness ng community na bahagi sila ng ganitong project", Delos Reyes said.
– See more at: http://www.gmanetwork.com/news/story/552567/scitech/science/coral-propagation-offers-hope-for-dying-reefs#sthash.ro6Kt2Li.dpuf
Source : [www.gmanetwork.com]